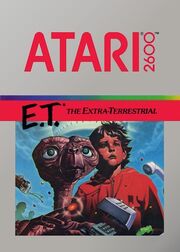 E.T. the Extra-Terrestrial (also referred to simply as E.T.) is a 1982 adventure video game developed and published by Atari, Inc. for the Atari 2600 video game console. It is based on the film of the same name, and was designed by Howard Scott Warshaw. The objective of the game is to guide the eponymous character through various screens to collect three pieces of an interplanetary telephone that will allow him to contact his home planet.
Warshaw intended the game to be an innovative adaptation of the film, and Atari thought it would achieve high sales figures based on its connection with the film, which was extremely popular throughout the world. Negotiations to secure the rights to make the game ended in late July 1982, giving Warshaw only five and a half weeks to develop the game in time for the 1982 Christmas season. The result is often cited as one of the worst video games released and was one of the biggest commercial failures in video gaming history. The game's commercial failure and resulting effects on Atari are frequently cited as a contributing factor to the video game industry crash of 1983.
E.T. is frequently cited as a contributing factor to Atari's massive financial losses during 1983 and 1984. It is speculated that as a result of overproduction and returns, millions of unsold cartridges were buried in an Alamogordo, New Mexico landfill. In 2013, plans were revealed to conduct an excavation to determine the accuracy of reports about the burial.